How Your Baby is Growing?
Your little one is just one month away from his first birthday and the last eleven months have been a ride that you cannot forget with new things happening every week and every month. New milestones achieved and new skills learnt. The journey to the first birthday of your baby 11 months old can be a very exciting one and a very tiring one too.
The brain is developing at a very fast rate and all the new things that your baby is learning is leading to newer connections in the brain and maturing of the central nervous system. The newest and most exciting of all developments is also almost here and that is speech. Your baby will soon learn to say small monosyllable words which will then become bigger words and finally sentences. The learning to speak phase is the cutest phase when some words are funny and others difficult to decipher. This month your baby will begin babbling. You can encourage him by responding to the babbles in a meaningful manner and talking back to him. He will also begin to respond when you speak to him even if he does not understand what you are saying. By this age many babies begin to understand their colloquial language and simple commands like look over there or sit down. Child development 11 months can be further enhanced by reading to your baby 11 months old colorful books that have pictures and even sounds. This helps them in increasing their vocabulary and also leads to baby brain development.
You may be feeding your baby outside food pretty comfortably by now and also may be researching newer recipes. Lunch ideas for babies 11 months old is a topic that may be of interest to you. In the midst of innovating new and healthy foods for your little one, you may notice that somewhere around this time your fussy 11 month old baby will love eating a few things and also hate a few. It can take around 10-15 attempts for your little one to begin liking a particular taste or food. At this stage many parents take the help of television or mobiles to distract their baby while eating. But this is a habit that can have serious impacts and leave your little one addicted to the screen. Good eating habits have their basis in these years and if you are persistent about it then it will help your baby 11 months old later on in life.
Most of the major vaccinations get over by the age of one year and some booster doses may be pending. You must visit your pediatrician regularly so that all the vaccines are given on the exact time and also baby wellness check up for height and weight is done. The systematic record of all the vaccinations is required to be kept as it may be asked by school authorities during your child's admissions.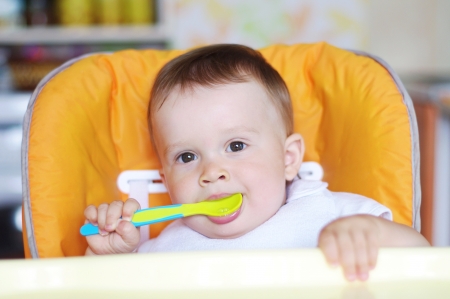 Baby 11 Months Old – Growth and Development
Feeding: You may still be breastfeeding your baby 11 months old and also may be thinking about weaning your baby. The best method to wean is to drop one feed at a time over a period of a few months so that your baby does not feel deprived and you are able to maintain your milk supply too. If you are worried about what to feed an 11 month old baby, well cereal for 11 month old baby may not be alone sufficient as the requirement of your baby will increase with age and as he becomes more and more active. It is said that by the age of one, your baby should eat all that is prepared at home. You can make use of some baby websites to look for healthy meals for 11 month old baby. Fruits, cereals, pulses, eggs and fruits are considered as good foods for 11 month old baby.
Sleep: Your baby is sleeping longer hours during the night with one or two naps during the day time. The sleep schedule this month is very similar to the sleep schedule for baby at 10 months old.
How is Your Life Changing?
By the end of this year, you also have gotten your life back on track and are thinking about your interests and liking as you are beginning to get more time to yourself. If you plan to go back to work or begin working from home in the form of freelancing, this is a good time but you also have to make the necessary arrangements. You may think of putting your baby in the crèche or hiring a maid or caretaker. Another option is to put your child into daycare for a few hours so that you can get some work done.
With one year gone by so soon, you may want to make a collection of all those baby pictures that you have taken. You could make a wonderful album for keep sake and also use online tips for the same. When you look back, it will be the videos that you will cherish the most as they take you back in that exact moment of your baby's first walk or first laugh. These are memories for life that you will always cherish.
You have got back your night sleep with your little one sleeping for longer hours. Many babies begin waking up at this stage in the middle of the night as there is an element of separation anxiety that kicks in. As they grow older, they can understand and even express whom they want to be with and what they like.
Stick to your parenting styles and avoid comparing them with those of others. All parents make mistakes and have their own set of problems. Never get carried away by perfect things that you see on social media as they may not be the complete truth.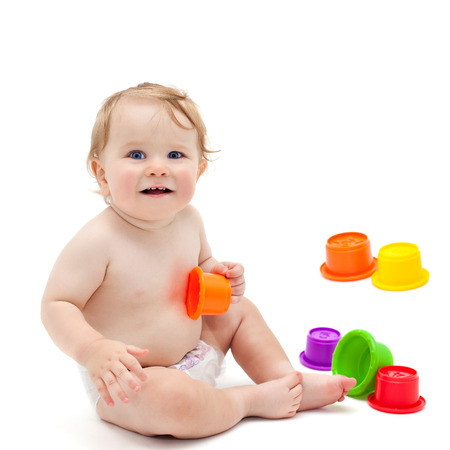 Important for This Month
Cow's Milk: After your baby's first birthday, you can switch onto whole milk or cow's milk. The best milk is the one that is pasteurized and free from any kind of dirt or bacteria. Using milk directly is at times unsafe. You should begin with small quantities once a day and then gradually increase the amount till you reach to about 5-6 ounces. Too much milk at this stage will decrease your baby's food intake so you should restrict it to 500-600ml per day.
Walking: Most babies this age begin to stand with support and also take a few steps. If your baby does not walk yet, it is completely normal and he or she will get there very soon. You can encourage him by giving a walker or a stand and push toy that he can use for support. Walking independently is something that babies do somewhere around their first birthday. Do not worry if this happens a little later too. When your baby is on the move, ensure that you baby proof the house really well so that the exploring is not dangerous.
Baby Tasks: You should engage your baby 11 months old and give small little jobs to him or her. These could be putting the balls in the basket, picking up some toys or just pulling out clothes from the laundry basket. This is important as the baby 11 months old will pick up some important lessons from it and be busy at the same time. When planning such tasks it is very important to remember that your bay still cannot differentiate safe from unsafe so you should avoid giving any such thing that is small and can be a choking hazard for him.
Baby Book: You are nearing the end of the baby book that you began maintaining since your little one was born. The pictures and details that you wrote about development of a baby month by month bring a smile to your face and when your baby grows up these will be something to cherish. Take some trouble and fill in those details and gift these memories to your baby.
Potty Training: For a baby at 11 months old, there is no fixed age for potty training and you need to look for signs that your baby is ready. It helps to start early and you should start by the time your baby begins to stand. Begin with pee training by taking them to the washroom every one or two hour. Gradually they will understand that this is the place to pee and over the period of the next year they will begin to tell you or give some signals that you can take them to the washroom. Beginning very early can lead to accidents so follow your baby's cues on this one.
<<< Baby 10 Months Old | Baby 12 Months Old >>>