Packing your Hospital Bag
As you step in the last month of your pregnancy, the anticipation and planning for labor begins. You read about what labor is like and you want to be fully prepared. Packing your hospital bag is a part of that preparation. Keep your hospital checklist ready. There are things that you may need during and after labor. Packing them well in advance is always a good idea. You must be ready three weeks before your actual due date because you may have to rush to the hospital early if your pains begin. Here is a hospital bag checklist that includes the basic things you will need when packing for the hospital pregnancy.
What to Pack in Your Hospital Maternity Bag for Labor?
Make a packing list for hospital which should include everything major and minor, which you may need for your comfort during the child birth process.
A photo identity – It could be your driving license, passport copy, PAN card etc
Eye glasses or contact lenses whichever you are more comfortable using
Hospital address and your insurance papers
Your birth plan
A nightgown, slippers, socks, towel and undergarments should be included in your hospital bag for delivery. During labor, the hospital will provide you with a gown and slippers. You could use your clothes before you are shifted into the labor room. It should be a comfortable one with short sleeves so that your blood pressure can be measured. You will need slippers to walk the halls when you are still in the first stage and the pains are not very intense.
Something that is soothing and relaxing. It could be your favorite music or a book you want to complete before you go into labor.
What to Pack for Your Partner/Labor Assistant?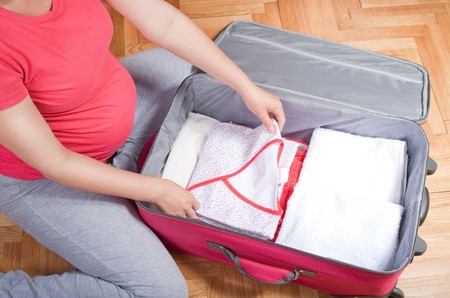 You will be accompanied to the hospital by your partner, so it is a wise decision to pack for him in advance too. He would be in charge when you are under anesthesia. He would also be required to sign consent forms and fill in the basic details like name, address etc wherever required. You could bring along the following things:
A fully charged phone
Money – cash/card whichever you plan to use
A video camera if you plan to record the special moment. But you would need the consent of the hospital before you go ahead. Many places have strict rules against filming.
Snacks
Pair of clothes and shoes
What to Pack for the Post Partum Hospital Stay?
After you deliver, you will be staying in the hospital till you completely recover. The number of days will depend on the type of your delivery. C-section patients need to stay for 2-4 days whereas the stay is shorter if you have had a normal delivery. Here is a post delivery bag list that you will need to carry in your pregnancy hospital bag.
A fresh nightgown
Undergarments
Extra absorbent sanitary pads (as you will be bleeding post delivery). Immediately after delivery, as you are sent out to the recovery room, you will be provided with sanitary pads. After 24 hours, the dressing of a C-section will be changed. The nurse will help to change your pads whenever required, depending on how much you are bleeding.
Toiletries like toothbrush, toothpaste, soap, lip balm, comb, make up, lotion. Depending on the hospital you choose all these may be provided but you should carry them in case you plan to use your own.
Breast pads (to absorb the leaking milk) and comfortable nursing bras for breast feeding. It is very important to carry good fitting bras as your breasts will be heavy and they need to be well supported. A nursing bra will make feeding easy as those first two days, you will be learning how to breast feed your baby every two hours.
A book or notepad to track the timings of your baby's feed, first urine or stool timings and other small things that you might want to note down.
Gifts for the older siblings when they come to see the baby at the hospital. Remember to make them feel important.
Camera to capture those moments when your siblings hold their new brother or sister.
A hand sanitizer. The baby is small and vulnerable to getting infection so you must insist anyone who wishes to hold the baby to clean their hands first.
A dress that you would like to go home in. Even though you have delivered, in those first few days you will have a flabby stomach and look 5-6 months pregnant. So remember to get something loose and comfortable.
What to Put in Hospital Bag for Baby?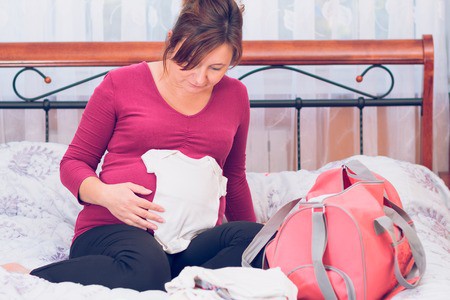 When packing baby hospital bag, make sure that you consider the weather, the surroundings and the hygiene of your newborn.
Install a car seat well in advance.
Baby clothes (caps, mittens, lots of diapers, swaddle bags, towels) that you bought long back thinking about your little bundle of joy. The clothes should be such that you can strap the baby easily in the car seat.
A cozy blanket and a warm one if the weather outside is chilly.
A baby book to capture all those wonderful moments.